At Motorsports Pickering - the best Motorsports Dealership in the Universe, in this dog's opinion - we understand having a passion for the outdoors. We know the thrill of the ride: the rush as the world and your cares stream by you and the wind flowing through your fur…. Well, maybe that last one is just me, but you know what I mean.
So if you're in our neck of the woods and you're looking for friendly, personal service and attention: come visit us! We have a great selection of new and used Motorcycles, Scooters, ATVs, Snowmobiles, Motocross, and more.
We have a great service department with a fantastic staff. We are an authorized dealer for Kawasaki and Arctic Cat. We carry lots of accessories like helmets, gloves, boots, as well as a selection of licensed gear like motorcycle jackets and jerseys.
Whether you're looking for parts, accessories, service or a new ride (at a great price!), you'll find the friendliest people and the best value at Motorsports Pickering. As a customer of ours, you don't just get a bike, you make friends. (Friends who bring each other doggie treats, maybe? Just putting it out there.)
Sincerely,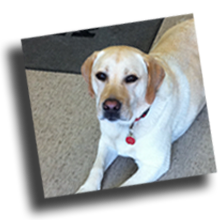 Spuds
Official SpokesDog
Motorsports Pickering